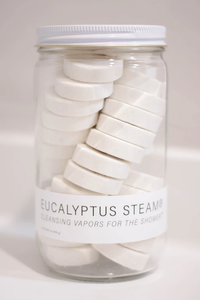 This listing DOES NOT include a container, please bring in your own freshly sanitized container to be refilled, choose from our selection HERE, or steams can be wrapped in kraft paper to be placed in an air-tight container when you get home.
The cleansing vapors of eucalyptus are well known for deep support of respiratory health are combined with concentrated cooling peppermint for an awakening and refreshing shower. More than a eucalyptus shower steamer, this is the EUCALYPTUS STEAM® shower experience.
How to use in the shower:
Place one or two rounds in the shower in the direct stream of water. As the round(s) get wet, they begin to dissolve and release potent essential oils into the hot shower steam. Our patent-pending slow release technology gives you several minutes of refreshing, EUCALYPTUS STEAM® filled air. 
Use as a facial steam (for very strong effect):
Place part of a round into a bowl of warm water, place a towel over your head like a tent, close your eyes and breathe in the vapors.
Ingredients:
Sodium salts (proprietary blend, patent pending), natural clays, stearic acid (plant based), eucalyptus oil, peppermint oil, menthol, eucalyptol
Warnings: For shower only, do not use in the bath. Keep out of eyes. If in eyes, flush with clean water for 10 minutes or longer. Do not handle with wet hands.  Do not ingest. Keep out of reach of children. Consult your physician before using if pregnant or breastfeeding. 
Manufactured by Earth & Daughter
EUCALYPTUS STEAM® is an internationally registered trademark of Earth & Daughter, LLC
BULK COST: $2.00/round