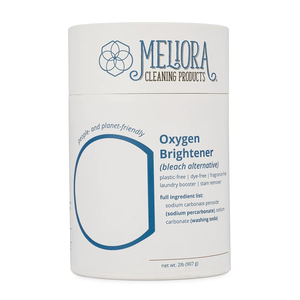 Give your laundry a boost with this people- and planet-friendly bleach alternative Oxygen Brightener. Meliora's color-safe laundry boosting oxygen brightener works great as an addition to your laundry routine, or anywhere in your home you need a little extra kick. Try it on your favorite coffee and tea mugs to cut through any buildup!
✓ Plastic-Free
✓ Chlorine-Free
✓ Dye-Free
✓ Preservative-Free
✓ Palm-Oil Free
✓ Cruelty-Free
✓ Fragrance-Free
How to Use:
Add 1 Tablespoon to a normal load of laundry.
For large/heavy loads, double it.
Use with any water temp (for best results, warmer is better) and most fabrics (do not use with wool or silk)
Test colored fabrics for color-fastness
For general household cleaning, mix 1 Tablespoon of Oxygen Brightener with 8-16 oz. of warm water (about 1/4- to 1/2-cup of Oxygen Brightener per gallon of water) 
Full Ingredient List: Sodium Carbonate Peroxide (Sodium Percarbonate), Sodium Carbonate (Washing Soda)
Net Weight 2 lb 
Caution:
DO NOT MIX with Chlorine, Ammonia, or any other chemicals.
Contains Sodium Percarbonate, which may irritate eyes or skin.
In case of eye contact, rinse with water for 15 minutes.
In case of skin contact, wash with soap and water.
If ingested, do not induce vomiting; drink plenty of water to dilute.