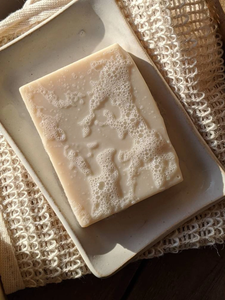 A brand new soap recipe featuring creamy raw cocoa butter! The smoothest lightest bubbly formula in firm, long lasting bar. This soap has no added aroma but does have a soft cocoa butter scent, it's sooo good. This bar will leave your skin feeling soft, and never dry.

Ingredients:
Coconut oil, cocoa butter, sunflower seed oil, babassu oil, water, sodium hydroxide, castor oil

Each bar is hand cut and 4.5 ounces.

Handmade in Iowa