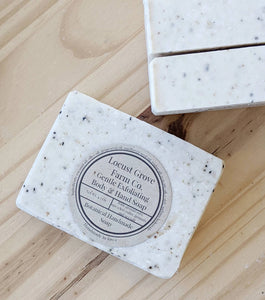 Gentle Exfoliating Bar Soap with Upcycled Local Coffee Grounds, Oatmeal, and Sea Salt. Use the actual bar to wash with, to gently buff away dry skin. 

Ingredients:
coconut oil, olive oil, water, sodium hydroxide, grapeseed oil, sunflower oil, castor oil, avocado oil, ground oats, coffee grounds, sea salt

Each bar is hand cut and 4.5 ounces.

Handmade in Iowa