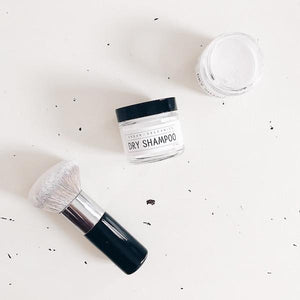 Not only will this dry shampoo leave your hair looking cleaner and more voluminous, but it also hides grow out between visits to the salon! 
Do you have brunette hair? We have a dark version just for you!
Packaged in an eco-friendly 2oz glass jar with metal cap. Please reuse or recycle.
INGREDIENTS: always 100% natural & vegan // *organic
kaolin clay: absorbs dirt + bacteria
arrowroot powder*: volumizes hair
TO USE:
Dip a cosmetic brush into the powder and tap off the excess in cap. Apply to dry roots and brush through.
For maximum longevity, store in a cool, dry location away from direct sunlight.
EXTRAS:
Mix in a few drops of pure essential for the following benefits:
lavender: stress relief, anti inflammatory, enhances blood circulation
wild orange: anti-septic, anti-inflammatory, anti-depressant, alleviates anxiety
ylang ylang: promotes hair growth, retains moisture
lemon: antibacterial, anti-fungal, anti-aging, treats dandruff