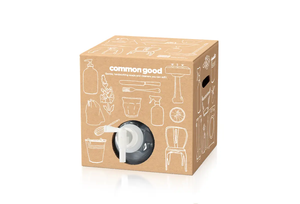 This listing DOES NOT include a container, please select one from our selection of jars and bottles. RECOMMENDED CONTAINER 
SHIPPING NOTE: Maximum shipping capacity is 16oz - larger capacities available for local pickup only.
Cleaning supplies don't have to be filled with chlorine bleach, ammonia, strong chemicals to work. Behold, the best natural, cleaning alternative, Common Good's all-purpose cleaner. This eco-friendly cleaner works fantastically on all non-porous surfaces; tile floors or walls, countertops, or porcelain.

Ingredients: water, decyl glucoside, potassium carbonate, citric acid, potassium hydroxide, gluconic acid, bergamot essential oil.