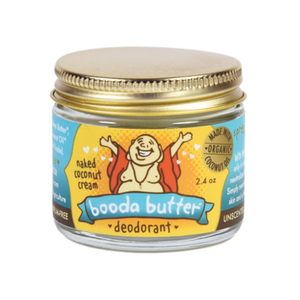 This gentle formula works by creating an alkaline environment that naturally reduces odor-causing bacteria. The result is soft, happy underarms and a fresh, clean feeling that lasts all day! 

Your armpits work hard to get toxins OUT and remember that 'What goes ON your skin, also goes IN'! This is why Booda Organics believes it is so important to only put the purest ingredients in this most delicate part of your body. Their cream is gentle, yet it REALLY WORKS! It is NOT sticky, tacky or greasy! It spreads smoothly, leaving you dry and powder fresh. And feel good knowing that it's sustainably packaged too!

PURE • POWERFUL • GENTLE • LONG LASTING • NAKED COCONUT (UNSCENTED)

Ingredients: Pure Baking Soda, Shea Butter*, Organic Tapioca Flour, Virgin Coconut Oil* & Cocoa Butter* (*Certified Organic & Fair Trade).

Made with Certified Organic Butters & Oils • Non-GMO Verified • Non-NANO • Cruelty-Free • Vegan • 100% Pure • Soy, Bee & Gluten Free • Wax-Free •   No Added Fragrance • Handmade with Love
NO Aluminum, Alcohol, Parabens, Phalates, Sulfates, Synthetics, Chemicals, Propolene Glycol or any other funky stuff!
To use: Melt a pea-sized amount between fingers or palms and gently massage into underarms (preferably after bathing). It smells so yummy and feels so creamy that you will be tempted to use a large amount, but please note that a little goes a long way and lasts all day! In fact, applying too much cream could actually cause a baking soda irritation in some sensitive individuals. The size of a small pea should do the trick!
...more ways to use: Enjoy the subtle naked coconut aroma or experiment with some of your favorite essential oils! Rub into any other stinky body parts such as feet! Soothe bee stings or bug bites! Help sanitize hands on the go! Great for camping! And please let us know if you discover more ways to enjoy...
PLEASE NOTE: Baking Soda may irritate skin in some sensitive individuals. 
Storage: The consistency is BEST when stored at room temperature! It will be harder when cold and can melt naturally when heated. If your cream melts, simply give it a quick stir and place it back at room temperature or in the fridge to re-harden. External use only.
2.4 oz Eco-Friendly Glass Jar & Gold Metal Lid (Please recycle or re-purpose!)