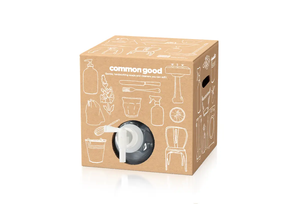 This listing DOES NOT include a container, please select one from our selection of jars and bottles. RECOMMENDED CONTAINER 
SHIPPING NOTE: Maximum shipping capacity is 16oz - larger capacities available for local pickup only.
So you would like a sparkling clean bathroom without all the harsh chemicals? That's what we are here for! We create the best plant-based cleaning supplies that are gentle, hardworking, and look beautiful on your countertop. Common Good's bathroom cleaner is formulated with plant-derived lactic acid to remove soap scum and limescale from the tub, tiles, and sink.

Ingredients: water, lactic acid, decyl glucoside, bergamot essential oil.