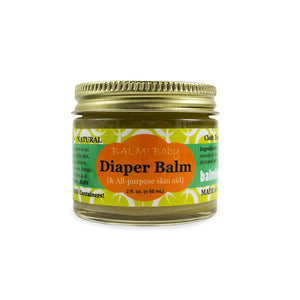 Made of a strong infusion of the earth's most healing herbs into Hawaii's most healing oils, this balm cures it all!
Cloth Diaper Safe, Organic, Vegan and 100% NATURAL!
Use on cracked feet, sunburns, dry lips, diaper rash, razor burn, eczema, bug bites, newborns peeling skin, itchy cradle cap, sores from drippy nose, post partum owies, scrapes, cuts, bruises, minor rashes, hemorrhoids, dry hands, stinky armpits, burns and all that other funky stuff!
INGREDIENTS: Extra virgin olive oil, raw, virgin macadamia nut oil, organic virgin coconut oil, organic, raw shea butter, chamomile, comfrey, calendula, candelilla wax, essential oils of: lavender, orange & tea tree and tocopherol.
2oz glass jar with metal lid