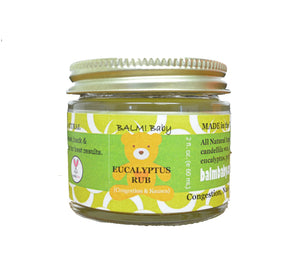 An herbal infused, all natural balm for aiding in treating stuffy noses and chests and nausea, morning sickness and motion sickness. Also amazing as a deep tissue and muscle balm! 
To relieve congestion: Apply a small amount to chest, back, and under nose and gently massage in. Apply before sleep for best results.

To relieve Nausea / Motion Sickness: Apply a small amount on ALL of the following areas: behind the ear lobes and tummy and gently massage in, AND apply under nose and BREATHE IN!
ORGANIC INGREDIENTS: Extra Virgin Olive Oil, Candelilla wax, vitamin E-T50, Essential oils of: eucalyptus, spearmint, pine and lavender
***Always start with a TINY amount and test on skin, especially with younger children and those with more sensitive skin.