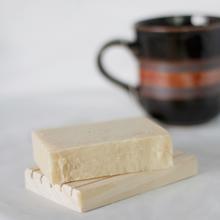 The soap features green tea, known to be a very gentle ingredient to the skin, while balancing oils + nourishing the skin to help prevent aging. Infused with eucalyptus oil, this soap prevents blemishes + provides a clean scent you will relish.
All-natural ingredients: olive oil, coconut oil, green tea, sodium hydroxide, sunflower oil, avocado oil, grapeseed oil, eucalyptus essential oil.
4oz bar soap in box made of recyclable fibers.