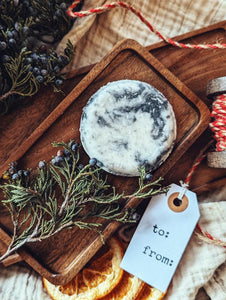 This aroma blend has been a holiday favorite for two years now, now available fora limited time in a shampoo ba!
Midnight Mint is a blend of peppermint, spearmint, cinnamon and clove.
These long lasting shampoo bars are a great way to streamline your routine and replace plastic heavy haircare products! 
They are hand pressed individually to create a unique shampooing experience. Made from only active ingredients and contain no water, preservatives, or fillers.
Just simple cleansing and conditioning ingredients blended with invigorating essential oils.
They are a breeze to use! Starting with wet hair, I focus on working the bar gently in circular motions, mainly applying it to my hairline and scalp, then working the lather through my ends. A final thorough rinse and you're ready to apply your choice of conditioner.
These 2 ounce bars will last twice as long(probably longer!) as any typical 8 ounce bottle of shampoo with normal use.
Regular bar maintenance applies. Get the most out of your bar by keep it high and dry between uses.

Ingredients: sodium coco sulfate(cleansing), cocoa butter(conditioning), sodium cocoyl isethionate(cleansing), sodium lauryl sulfoacetate(cleansing), coco betaine(lather and mild cleansing), coco glucose(mild cleansing), essential oil

This product doesn't contain SLS(sodium lauryl sulfate) though the ingredients sound strikingly similar, they molecularly are different. They both have a role in cleansing, but work in different ways.

The ingredients in these bars are gentle surfactants(cleansers) that break the bonds of dirt, excess oil, hair products, etc to help lift them from the hair and scalp to allow them to be rinsed away.