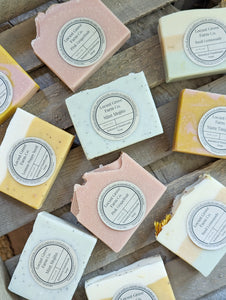 Happy Summer!

The seasonal soaps are here! Once they're gone, they will not be available until next year. Back this year are Lemon Poppyseed,  and Pink Grapefruit. New to the shop this year is Yuzu Tangerine, Mint Mojito, and Basil Lemonade.

Lemon Poppyseed: lemon + lemongrass
Mint Mojito: lime + mild peppermint
Basil Lemonade: herbal basil + lemon + mild mint
Pink Grapefruit: grapefruit + a hint of geranium
Yuzu Tangerine: Yuzu + tangerine + lemon

Mint Mojito is made like your favorite Coconut Oil Shave and body bar, but with peppermint and lime essential oil. Ingredients: Coconut oil, water, sodium hydroxide, essential oil, French green clay, poppy seeds

Lemon Poppyseed, Basil Lemonade, Pink Grapefruit and Yuzu Tangerine Ingredients: coconut oil, olive oil, grapeseed oil, sunflower seed oil, avocado oil, castor oil, water, sodium hydroxide, essential oils, naturally occurring clays. May contain, calendula, poppy seeds, Himalayan salt.


Each bar is hand cut and 4.5 ounces.

Handmade in Iowa