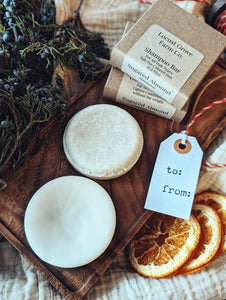 (Shampoo + Conditioner bars sold separately)
Say hello to Sugared Almond, the season's most delicious aroma made into your favorite hair bars!
The shampoo is the bar you know and love and the conditioner is comparable to the purple, hydrating conditioner you may have used before. 
How to use shampoo: apply the bar directly to your wet hair, once it starts to lather, set the bar aside and work up a lather like normal. Rinse well and follow with conditioner.
How to use conditioner: after shampooing, apply the bar directly to your wet hair. Work the bar into your hair until you *feel* it starts to smooth and soften your hair. Finger comb to distribute through your hair. Leave on for a minute or two, then rinse well.
Storage: Keep your bar high and dry between uses! Your bar will last longer if you are able to store it in or out of your shower where it is allowed to dry between uses. 
Ingredients conditioner: BTMS(rapeseed derived emulsifying wax), cetearyl alcohol(conditioning alcohol), cocoa butter, coconut oil, avocado oil, d-l panthenol(vitamin b), strawberry seed oil, essential oil, naturally occurring clay
Ingredients shampoo: sodium coco sulfate(cleansing, coconut derived), cocoa butter(conditioning), sodium cocoyl isethionate(cleansing), sodium lauryl sulfoacetate(cleansing), coco betaine(lather and mild cleansing), coco glucose(mild cleansing), essential oil, vanilla powder, rhassoul clay